24-Hour Emergency Service | Automatic Delivery | Annual Tune-Ups | Indoor Air Quality
Duct Cleaning | Water Purification | Pool Heating | Radiant Heating | Geothermal Heating
Solar Hot Water Heating | Hydro Air | Conservation Advice | Payment Options | Tank Replacement
Water Heater Replacement | Tank-Guard®


---
One Great Company for Residential and Commercial Heating, Cooling and Comfort
Check Your Account Online
MacFarlane Energy customers can access their account information online through our secure, password-protected My Account management section. Once you are registered, you will be able to...
View your account information
Request a delivery and manage pending delivery requests
View records of previous deliveries
Request a service call
View records of previous service calls
Pay online via credit card or e-check
Enroll in a Service Policy
To Get Started...
Register a new online account by clicking here. You will need your account number and phone number to get started. Once your account is registered, you can log in below at any time to manage your account.
Customer convenience is a top priority at MacFarlane Energy. We simplify our customers' lives by serving as a one-stop shop for heating, cooling and home comfort. In addition to delivering fuel and maintaining the equipment in your home or business,
we provide virtually every related service:
indoor air quality, duct cleaning, conservation advice, home energy audits, replacing water heaters and oil tanks, installation of high-efficiency equipment, plus more. We also install radiant heat, snow-melt systems, pool heaters, solar hot water systems, and geothermal systems.
MacFarlane Energy will
work proactively to add convenience in how you manage your account and pay your bills.
With MacFarlane, you can view your account, earn rewards, choose a monthly payment plan, order fuel, schedule service and pay bills — all online.
To request heating or cooling services, including system installation, please call our office or
contact us
online.
Here is a detailed look at the many services that MacFarlane Energy offers.
24-Hour Emergency Service
Every Massachusetts home and business should have a heating company on call 24 hours a day for heat emergencies. A heating system is most likely to fail when it is under heavy stress due to extreme cold weather, so heat outages tends to occur in batches. This means that heating companies can be overwhelmed on the coldest nights and unable to assist non-customers.
MacFarlane Energy customers are assured of prompt response to heat emergencies 24 hours a day, including weekends and holidays.
We strongly recommend that customers purchase service plans that include repair coverage,
because even a relatively small repair can be very costly. To learn more about our service plans, see below.
If you are having a heat emergency, please call our office immediately.
Automatic Delivery
Automatic delivery is a great convenience that truly costs you nothing
(more about that below)
. Instead of watching your fuel gauge and placing an order every time you need a delivery,
entrust MacFarlane Energy to keep you supplied
. We plan your delivery dates in advance and adjust to changing weather conditions, which we monitor with a Degree Day system. If the weather is mild, deliveries are less frequent. If the weather is cold, our truck arrives sooner.
There are cynics who believe
that oil companies take advantage of Automatic Delivery to make deliveries when prices are highest. We can't speak for any other companies, but we can promise you that we will never do that. Treating customers fairly every day is our promise at MacFarlane Energy.
Automatic delivery does help us keep overhead down, because we can plan our delivery schedule for maximum efficiency with a minimum of wasted mileage - which helps us keep costs low. We thank all our Automatic Delivery customers for helping us control our operating costs.
To request Automatic Delivery, including system installation, please call our office or
contact us
online.
Annual Tune-Ups
Every boiler or furnace should receive proper preventive maintenance. A MacFarlane Energy annual tune-up provides important benefits:
We restore the system to peak operating condition, which improves efficiency by as much as 10 percent.
We detect and repair system problems before they become serious.
We prepare your system to perform reliably throughout the next heating season.
A MacFarlane Energy annual tune-up includes the following:
Install new air filters, oil filter cartridge and burner nozzle as needed
Inspect combustion chamber
Clean and check electrodes and nozzle assembly
Clean and inspect flue pipe, including chimney base (where accessible)
Oil all motors on burner, fans and circulators
Safety check all operating controls
Test and adjust oil burner for maximum efficiency
To request a tune-up, including system installation, please call our office or
contact us
online.
[ Back to Top ]
Indoor Air Quality
Effective Solutions for Indoor Air Pollution and Low Humidity
Indoor air quality problems can take a toll on your family's comfort and health. Dust, particulates, household chemicals and allergens can accumulate, making the air in your home dirtier than the air in a large, crowded city, according to the U.S. Environmental Protection Agency.
Some homes also have problems with
insufficient humidity
. During the winter, dry indoor air makes people more susceptible to winter colds and the flu, and causes damage to your home's wood floors, frame and furnishings. Dry air also makes our bodies feel cooler - causing you to raise the thermostat, and therefore use more energy. By maintaining the proper level of humidity indoors,
you can have a healthier, safer and more comfortable home ... while lowering your energy bills!
MacFarlane Energy has answers. We can test your air quality, and if there is a problem we can install a whole-house filtration system that works with your heating and/or cooling system to remove nearly all airborne pollutants. Many systems employ the same technology used by hospitals and high-tech factories to purify their air. Filter systems can be supplemented with UV lights that kill airborne mold and bacteria.
We also install whole-house humidifiers that add moisture to the air as it is distributed by a warm-air heating system. Whole-house humidification can balance your air to improve comfort and health and prevent damage to wood.
Here is a look at two of the manufacturers whose products we install:
Aprilaire
Aprilaire Whole-House Air Cleaners are installed as part of your home's central heating and cooling system, so the air in your home is filtered through a state-of-the-art filter media every time your system runs, removing potentially harmful contaminants from every room. The resulting clean air is then distributed via your heating and cooling system's ductwork to your entire home. The system is easy to maintain, with maintenance only required every one to two years.
Aprilaire Whole-House Humidifiers were introduced in 1954 as the first evaporative, flow-through design humidifiers. Aprilaire Humidifiers continue to lead the way in whole-house humidification systems, with a unique Automatic Digital Humidifier that monitors outdoor temperature and indoor humidity levels while providing convenient troubleshooting and maintenance reminders.
Honeywell
A leading manufacturer of whole-house comfort products, Honeywell offers a variety of systems for cleaning indoor air throughout the home including the F500 Whole-House HEPA Air Cleaner, the TrueCLEAN™ Enhanced Air Cleaner, the F300 Electronic Air Cleaner, the F200 Whole-House Media Air Cleaner With Filter Reminder and the F100 Whole-House Media Air Cleaner.
Honeywell also offers a variety of humidifiers, including the TrueSteam™ Humidification System, which uses less water and works independently from the heating and cooling systems. The HE365 Fan-Powered Humidifier is perfect for homes up to 3,000 square feet, delivering up to 18 gallons of moisture per day.
Air-to-Air Heat Exchangers
The introduction of outdoor air is essential to keep a home's air fresh and healthful, but it runs counter to the principles of efficient heating. You can open windows, but when you do, your conditioned air escapes and your heating system has to work harder. If you are striving to be efficient and reduce energy consumption, you need an alternative system that complements your efforts instead of defeating them.
The best solution is a heat recovery ventilator that transfers heat from your heating system to the outdoor air as it is brought inside so that your system does not have to work harder to make up for the addition of cold air. MacFarlane Energy's air quality experts can help you determine if your home can benefit from air-to-air heat exchange. If you would like to bring fresh air into your home without undercutting your home's efficiency, please call us or
contact us
online and we'll be happy to evaluate your home and make a recommendation.
Duct Cleaning
Over time, the ducts that circulate conditioned air through your home can become clogged and dirty. Dust, mold and pet hair can accumulate. Rodents and insects can build nests. Mold and mildew can build up on the duct walls. As heated or cooled air passes through the ducts, it can lift these contaminants and mingle them with the air you breathe. The contaminated air can pose a risk to you and your family - and in particular to any allergy and asthma sufferers.
The best way to safeguard your family - and promote efficient heating or cooling - is to have your ducts professionally cleaned on a periodic basis. Duct cleaning must be done right, or it can aggravate air quality problems rather than solving them. MacFarlane Energy has the know-how and the specialized equipment to rid your ducts of all contaminants, and we take every precaution to keep your air and your house clean.
To request an evaluation of your ducts or schedule a cleaning, please call our office or
contact us
online.
Water Purification
Are you unhappy with the quality of your tap water? MacFarlane Energy can help. We install water purification systems that serve the whole house or a single faucet. Your tap water will taste fresh, and your days of buying bottled water and contributing to the vast stream of plastic water bottle waste will be over! We also install bottle-less water coolers.
To schedule the installation of a water purification system, please call our office or
contact us
online.
Pool Heating
MacFarlane Energy helps customers extend the summer pool season by installing high-efficiency pool heaters. You'll have control over your pool's temperature, and you'll be able to swim comfortably for additional weeks at the beginning and end of the pool season.
To schedule a pool heater installation, please call our office or
contact us
online.
Radiant Heating
Have you ever experienced the exceptional comfort that radiant heating provides? When the floor is the heat source, your rooms are remarkably comfortable, and you'll want to keep your shoes off all the time.
MacFarlane Energy designs and installs radiant heat systems for both new construction and existing homes and businesses. We can provide a dedicated boiler for the radiant system or install a mixing valve that enables one boiler to service radiant heat and baseboards simultaneously.
To find out whether radiant heating is right for your home or business, please call our office or
contact us
online.
Geothermal Heating
MacFarlane Energy helps customers tap into the energy under the earth's surface with geothermal heating systems. We design the system and find an underground area on your property that has a suitable temperature. During heating season, we draw the heat energy out of the ground by circulating a heat-absorbing liquid through a system of underground pipes. An advanced heat exchanger in the home then transfers that heat to the home or hot water supply, so that less fuel is required to bring the rooms or water supply to the desired temperature.
To learn more or request an evaluation of your property as a geothermal site, please call our office or
contact us
online.
Solar Hot Water Heating
Solar energy is a great source of free heat for your hot water supply. MacFarlane Energy installs solar hot water systems that use rooftop solar collectors to capture and concentrate heat from the sun and transfer it to your water supply. A solar system that is properly designed and installed can meet virtually all the hot water needs for a family of four, even in our cloudy, moderate climate.
To learn more about solar hot water heating, please call our office or
contact us
online.
Hydro Air
Hydro air technology combines the best of hot water and hot-air heating. Heat is generated by a boiler but distributed as heated air. The heated water is piped through an air handler, where the heat is transferred from hot water coils to the air, which is then distributed to rooms through ductwork. If a central air conditioning system is integrated, the ducts perform double duty for heating in the winter and cooling in the summer.
Hydro air is particularly effective in buildings where zoned heat is desirable, because zoning is difficult with a traditional hot air heating system. It also adds more options for heating to a building that relies on water-based heating, such as for heating a garage or an addition.
MacFarlane Energy has been designing and installing custom hydro air systems in local homes and businesses for many years.
To inquire about hydro-air heating in your home or building, please call us or
contact us
online.
[ Back to Top ]
Conservation Advice
Many homeowners and businesses are interested in conserving energy but don't know exactly how to do it. MacFarlane Energy is a great resource. We understand heating and cooling and share what we know with our customers. Upon request, we will visit your home; test and evaluate your home comfort systems; then explain how efficiently your equipment is operating and what you can do to reduce energy consumption.
MacFarlane Energy performs
comprehensive home energy audits
. Several employees of the MacFarlane Energy team are certified by the Building Performance Institute (BPI) to test homes for air sealing, insulation, safety, appliance efficiency and other factors that affect energy consumption. We perform the audits using sophisticated equipment such as blower doors and infrared cameras.
For more information on our energy conservation services
, including home energy audits, please visit our
Energy Conservation
page.
Payment Options
Home heating costs can be unpredictable in these days of volatile energy costs. MacFarlane Energy helps customers manage their energy and comfort expenses with helpful programs such as a budget plan and price protection.
Budget Plan
Heating expenses can pile up in winter when you pay for each heating oil delivery as we receive it, because you are paying the bulk of your heating costs during the cold months. To avoid a winter budget squeeze, you can enroll in the MacFarlane Energy Budget Plan. This replaces the pay-on-delivery method with a regimen of predictable monthly payments.
Enrollment is before the heating season, so we can estimate your total heating expenses for the next year by combining your expected oil consumption (based on past usage) and the anticipated average price of heating oil. We divide that total by 11 to calculate your monthly payment, then bill you that amount on the same day every month for 11 months.
With the Budget Plan, your bills will be lower during the heating season, because you pay the same monthly amount no matter how many deliveries we make in a given month. You get out in front of your heating expenses, and
we pay 2% annual interest on your account balance
. You can also include the cost of your service policy in your Budget Plan.
IMPORTANT NOTE
: The Budget Plan relies on estimates in setting your monthly payment amount.
When fuel prices rise or usage increases, the total cost can increase.
If we believe that your total payment is increasing, we may call and recommend a payment adjustment so that you do not finish the budget year with an outstanding balance. You may also call the office at any time to inquire.
To learn more about the Budget Plan or to enroll, please call our office or
contact us
online.
Price Protection
Energy prices are subject to unpredictable swings, including price increases that can drive up your heating costs. If you want to lock out the threat of inflation and make your costs predictable, MacFarlane Energy can help with our Price Protection programs.
We offer two choices for protecting your oil price.
Capped Price Plan
Purchase your seasonal supply (or a portion of it) with a two-part guarantee regarding the price. First, your price will not exceed the "cap price" that we agree upon when you enroll, regardless of how high prices go during the heating season. Secondly, if our daily price of oil is lower than the cap price for any given delivery, you will pay the daily price instead of the cap price for that delivery.
Pros: Your maximum price is capped, and you won't pay more regardless of where prices go. If prices decrease, you will also benefit.
Cons: There is a cost associated with protecting an oil price against the risk of sizable price swings in both directions, and this plan carries a fee to cover the cost of two-way price insurance.

Fixed Price Plan
You agree to purchase your seasonal supply (or a portion of it) from MacFarlane Energy for a fixed price, that we agree upon, when you enroll.
Pros: Your price is locked in. If prices increase during the heating season, you avoid paying the higher price.
Cons: If the price should decrease during the heating season, you will not benefit because your price is locked in.


To learn more about the Price Protection programs or to enroll, please call our office or
contact us
online.
Pay Online
MacFarlane Energy offers customers the option of paying their bills online by credit card. We accept Visa and MasterCard. To pay your bill, please log in to your
MacFarlane Energy account
and use the secure Pay Online form.
Tank Replacement
Oil tanks can last for several decades, but they don't last forever. A tank can look solid from the outside but be wearing thin from the inside due to corrosion. MacFarlane Energy inspects customer tanks upon request and installs the very best in replacement tanks from the industry's most respected manufacturers.
To learn more about the replacement tanks we install, please
click here
.
To request more information or a free evaluation of your oil tank, please call our office or
contact us
online.
Water Heater Replacement
Water heaters often last more than 10 years, but the end can come quickly and without warning. MacFarlane Energy installs excellent replacement water heaters from the best manufacturers in the industry, including direct-fired units with a dedicated oil burner and indirect-fired units that draw their heat for the boiler or furnace and electric.
It is wise to plan for your water heater placement in advance, so that you know what to buy when the time comes and are not forced into a hasty decision. We work with customers to determine how much hot water you use and what sort of replacement unit makes the most sense for your needs.
To read about the hot water heaters we install, please
click here
.
To request more information or a free evaluation of your hot water heater, please call our office or
contact us
online.
Tank-Guard®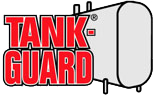 Tank-Guard® is a proactive oil tank protection program for aboveground and indoor fuel oil tanks. It features the proprietary Tank-Guard® corrosion protection additive to prevent internal tank corrosion. This effective, once-a-year additive is added to the tank during a regular delivery.
The Tank-Guard® Program is recognized as the industry standard for tank corrosion and warranty protection for homeowners. It provides a cost-effective way to protect your tank against internal corrosion and is backed by our "peace-of-mind" warranty if a tank fails due to internal corrosion.
To learn more about Tank-Guard® or to enroll, please call our office or
contact us
online.
[ Back to Top ]