Tank-Guard®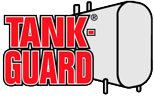 Tank-Guard® is a proactive oil tank protection program for aboveground and indoor fuel oil tanks. It features the proprietary Tank-Guard® corrosion protection additive to prevent internal tank corrosion. This effective, once-a-year additive is added to the tank during a regular delivery. 

The Tank-Guard® Program is recognized as the industry standard for tank corrosion and warranty protection for homeowners. It provides a cost-effective way to protect your tank against internal corrosion and is backed by our peace-of-mind warranty if a tank fails due to internal corrosion. If your tank is covered by the Tank-Guard® warranty and a leak occurs, you will be eligible for either a cash reimbursement toward a replacement tank, or a free replacement tank installation. 

To learn more about Tank-Guard® or to enroll, please call our office or contact us online.