We Are Family Owned and Operated Since 1946
MacFarlane Energy Founder, Peter MacFarlane, was born in Boston's South End in 1919. Son to a widowed mother of three, Peter began working in the oil business at the age of 12. He worked part time, after school, delivering oil in five-gallon cans.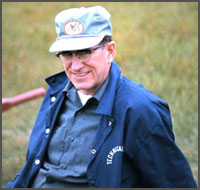 Following his service in the Pacific Theatre of World War II, Peter returned to the oil business he had worked for before the war. In 1946, he purchased the business and established Peter MacFarlane Oil Inc. 

MacFarlane Oil started as a one-truck operation. Peter delivered the oil, serviced the burners, and installed new equipment by himself. Peter's wife Frieda managed the bookkeeping and correspondence, while raising a family of five. 

Since MacFarlane Oil's inception in 1946, we have continuously achieved new levels of performance. Peter worked to improve the Waltham Shell Head burner, along with Stanley Peterson from the Waltham Oil Burner Company. 

Since the passing of Peter MacFarlane in 1987, his son Scott has operated MacFarlane Energy. A Needham resident, Scott continues this tradition of self-improvement in order to pass the benefits on to our loyal customers. He is an active member of the Needham Rotary Club for over 30 years and served as Chairman of the Massachusetts Oilheat Council and as Director of the New England Fuel Institute, the Massachusetts Oilheat Council and the American Energy Coalition. Scott has also served on numerous energy related committees throughout his years of service in the company.