Mitsubishi Ductless Air Conditioners
As a Mitsubishi Diamond Contractor, MacFarlane Energy expertly installs the full line of Mitsubishi air conditioning products. 

If you've always wanted central air conditioning, but don't want to deal with the inconvenience of installing ductwork in your home, you'll appreciate the Mitsubishi "Mr. Slim" Ductless Mini-Split A/C System. This energy-efficient ductless system is perfect for installing in tight, compact spaces. The Mr. Slim consists of two units: a slim-line outdoor condenser, and an indoor air handler. The condenser supplies coolant to the air handler through refrigerant lines that run through a small opening in the wall or ceiling and into the back of the unit. The air handler takes in supply air from the room through the front grill and dispenses the newly cooled air back into the room.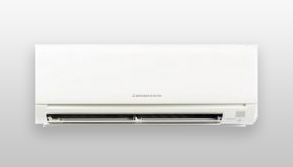 WATCH THIS VIDEO TO LEARN MORE ABOUT MITSUBISHI INSTALLATIONS
To learn more about Mitsubishi's ductless air conditioning solutions, watch the video on this page. To find out if ductless air conditioning is right for your home, call or contact MacFarlane Energy and request a free evaluation.