Cleaner Air from MacFarlane and Carrier's OptiClean™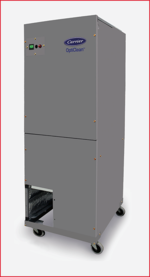 Introducing the Carrier OptiClean negative air machine - a  portable solution to indoor air quality that removes filtered contaminated air from a room using negative pressure. Now available for rent or purchase through MacFarlane Energy. Additionally, the machine can be used as an air scrubber by pulling air in, removing many of the contaminants, and circulating cleaner air back into the space.
Fill out the contact us form on this page to learn more about Carrier's OptiClean!