Bringing You the Best in Home Heating Fuels
Heating oil quality is improving, and MacFarlane Energy is bringing you the best in clean-burning, low-emission fuels that integrate renewable biofuel. We'll continue delivering even better fuels as they become available. If you are a current customer, you may order fuel through your My Account page. If you are a new customer, please call our office or contact us online. 


Heating Oil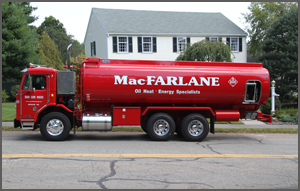 Heating oil is evolving toward greater cleanliness and renewability, and we are preparing to adopt new fuel blends as they become more available and affordable. The heating oil industry is actively promoting the use of ultra low sulfur heating oil, which offers cleaner emissions due to the reduction of sulfur content. That cleaner fuel will be blended with renewable biofuel to create a blend that burns with very low emissions while helping to reduce demand for petroleum. 
Biofuel Blends
The heating oil that MacFarlane Energy delivers today is a mix of petroleum and biofuel, and we will look to increase the biofuel component of the fuel (and reduce the petroleum content) as biofuel becomes

more available and affordable. A blend of 95 percent petroleum and 5 percent biofuel is already approved for use in all heating oil systems. Biofuel is made from organic materials such as plants and waste cooking oil. 


Diesel and Biodiesel
We deliver diesel and biodiesel for use in emergency backup generators that provide electricity in the event of a power outage.