When the Lights Go Out, Let the Power Go On, with a Whole-House Standby Generator from Honeywell
First, there was Hurricane Irene in 2011 ... and then, the devastating Hurricane Sandy. These storms left millions of residents on the Eastern Seaboard in the dark. 

We can hear you loud and clear, saying "Next time, I'm getting a generator," and we are here to help, with affordable whole-house standby generators from Honeywell. 

Your home and family are priceless, and with a Honeywell automatic standby generator, you can rest assured that everything and everyone will be protected. When the rest of the neighborhood is suffering in the dark, without heat, hot water, refrigeration and important appliances, you'll be warm, comfortable and safe.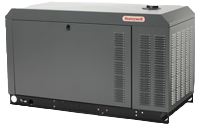 Your Honeywell automatic standby generator sits outside your home or business just like a central air conditioner, while the transfer switch is located next to the main breaker box. The generator and transfer switch work together to monitor utility power around the clock. You don't need to lift a finger!
Within seconds of sensing utility power is lost, the generator starts automatically to supply power.
When the return of utility power is sensed, it automatically shuts down ...
... and returns to standby mode, ready for the next outage.
Powered by your own reliable natural gas or propane supply, a Honeywell generator is so quiet, you will hardly know it is on. The durable premium aluminum enclosure resists corrosion for long life, even in salt air, with a RhinoCoat™ finish that adds superior weather protection. Plus, remote monitoring is standard on every Honeywell home backup generator, so you can observe generator status, set operation parameters and receive maintenance information, all from the comfort of your home.

Honeywell generators come in a variety of capacities: 10/15/20 kW, 25 kW, 35 kW and 45 kW, depending on the types of appliances you wish to power during an outage. Our generator specialist will visit your home for a FREE consultation, and will help you choose the model that is best for your needs. When it is time for installation, our highly trained and certified technicians will secure all proper permits and inspections, and will test for and assure optimal installation.

Don't face another storm without a Honeywell whole-house emergency backup generator from MacFarlane Energy. Contact us now.