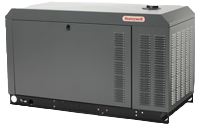 Between heavy storms in spring and fall and unpredictable Boston winters, you need a reliable backup power source. At MacFarlane Energy, the solution is simple: a Honeywell backup generator. Honeywell produces the best in emergency generators, with a wide variety of sizes to power your whole home or only a few key appliances. Installing a 
whole-home generator
 will get you through even the roughest of storms worry-free.
Honeywell standby generators 
feature an automatic transfer switch, which turn on seconds after the power goes out, and turn off as soon as it's restored. Honeywell offers a wide range of power capacities. During your free consultation with a MacFarlane generator specialist, we will review the size of your home and the appliances you'll want to run to determine the right size unit for you. MacFarlane will help secure any required permits or inspections, and ensure the generator is installed properly. 
Don't get left in the dark. 
Contact us today 
to schedule your free consultation.