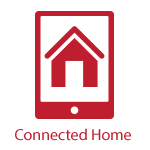 Everyone needs to getaway once in a while – especially during the summer! If you own a summer home, bring it into the 21st century with MacFarlane Energy's Connected Home features. Your newly connected home will make it easier for you to monitor your property all year long, and prepare it for your arrival when the weather starts to heat up!
Consider how convenient your summers will be with…
Access Controls let you keep unwanted guests out! By creating unique visitor codes, you'll also know who exactly is coming and going when you receive email or text alerts each time the door is unlocked.
Remote Doorbell monitoring with the SkyBell® smart video doorbell lets you know when anyone is approaching the door, and provides you with a link to a live video and audio feed so that you can see who it is you're speaking with.
Home Video Monitoring covers the rest of your home with multiple cameras so that you can easily toggle between views, or set up an array view so you can see everything at once. Perfect for peace of mind when you're away for a long period of time!
 Remote Control Lights & Appliances help you save on energy costs by monitoring your home's electrical systems, and turning off anything that isn't being used. And, when you're returning to the home, you can have the AC start running before you get there for optimal comfort!
MacFarlane Energy's Connected Home services are perfect for the summer season! Whether you're away for the summer for long periods of time, or just want to keep an eye on your property at all times, we'll help set you and your home up for optimal security and peace of mind! Contact us online today to learn more.