MacFarlane Energy to Phase Out Fossil Fuel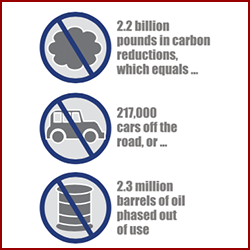 On September 23, 2020, MacFarlane Energy's Vice President, Scott E. MacFarlane, came together with colleagues at the National Energy & Fuels Institute (NM) for an industry summit During the event, Scott made a commitment to help secure a cleaner and greener future for MacFarlane Energy customers and all Massachusetts residents. Working together, we will eliminate fossil fuel and carbon emissions from home heating.
To help reduce our communities' carbon footprint, MacFarlane already delivers an environmentally responsible heating fuel known as Bioheat®. Bioheat is a renewable fuel made by blending ultra-low sulfur heating oil with at least 5% low carbon biodiesel (B5). MacFarlane has committed to deliver even cleaner forms of Bioheat in the future, including B20 by 2023, B50 by 2030 and B100 by 2050, with additional equipment modifications.
If you think 2050 seems a long way off, consider that a blend of Just B20 can prodde the following benefits for our neighbors throughout Massachusetts:
2.2 billion pounds In carbon reductions, which equals:
217,000 cars off the road, or...
2.3 million barrels of oil phased out of use
As the chairman of NEFI's Government Affairs Committee, Scott E. MacFarlane has taken an active role in reducing the heating oil industry's greenhouse gas emissions. MacFarlane Energy customers like you can take pride in knowing that our heating fuel is on a path to help protect the community for future generations.