We Keep You Informed!
At MacFarlane Energy, we believe in the power of good information. We publish a seasonal customer newsletter, Ask MacFarlane, that educates you about energy conservation and brings you up to date on new products and services. We also bring you important company news and fun competitions where you can win gift certificates and other prizes.

Please watch your mail for the next issue of Ask MacFarlane and give it a look. We're sure you'll appreciate the information we provide. We will archive issues of the newsletter in PDF format on this page.
In This Issue: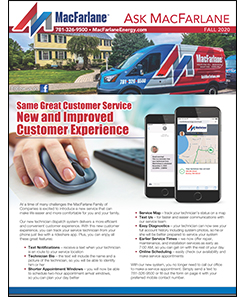 Same Great Customer Service New and Improved Customer Experience
MacFarlane Energy Has Expanded Across Eastern Massachusetts
Make Indoor Air Quality Part of Your Home Improvement Plans
A Predictable Formula for these Unpredictable Times
MacFarlane Energy Celebrates 75 Years
MacFarlane Energy to Phase Out Fossil Fuel
How May We Help You?
 Click here to download the PDF file


Past Issues
Please note: you must have pop-ups enabled to view/download our newsletter.