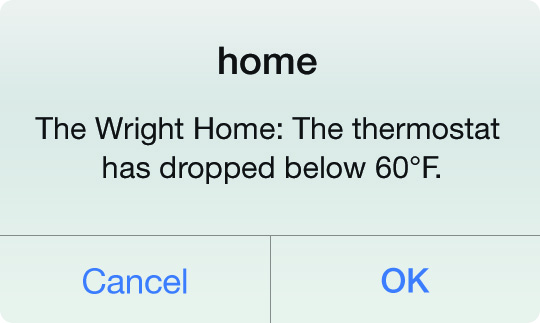 How many times have you wished to be in two places at once? Now, with the MacFarlane Connected Home, you can go to work, travel or own a second home and still keep your loved ones and property protected. The power to do so is at your fingertips with an easy-to-use app.
The MacFarlane Connected Home controls appliances, thermostats, security cameras and access to your home. It can also monitor for flooding from broken pipes or valves and shut off interior water lines. These features provide 24/7/365 security for primary residences, as well as vacation homes, making it possible for someone to always be "at home" even when miles away.
Control access and security: With internet-enabled smart locks you can get rid of dangerous "hidden" keys. The app will make it possible for you to: lock or unlock doors from anywhere; assign personal access codes and track when they are used; create time-specific access codes for guests and service people; check for unlocked doors and lock them; and send alerts whenever a door is opened.
Control lights and appliances: Light fixtures and appliances can be outfitted with internet-enabled switches, letting you turn lights on or off, set appliances on a timer, or switch all on at once in an emergency. Geo-fencing can be incorporated to use the smartphone's GPS to trigger actions such as turning on lights or heating and cooling systems when you enter a pre-programmed radius.
Answer the door: Integrate a SkyBell® smart video doorbell to receive alerts when someone approaches your door and link to video and audio feeds. You will be able to talk to the visitor, take photos or record the video feed. 
Prevent water damage: The MacFarlane Connected Home can include water sensors and shutoff valves to mitigate the risk of flooding from burst pipes or valves. The system will send you an alert as soon as it detects a leak or flood, and you can shut off specific zones or the entire home. Reducing the scope of a flood from your washing machine, dishwasher or sump pump can save you thousands of dollars in clean-up and repair costs.
Real-time video surveillance: Monitor child care providers, housekeepers, work crews or unsupervised teens by connecting multiple interior and exterior security cameras, and viewing each camera feed individually, or set up an array to watch all at once. 
It is time to harness the massive opportunities offered by smartphone connectivity. Protect your family, secure your home, and lower your energy usage. Call MacFarlane Energy at 781-326-9500 or 
contact us
 today to schedule your free consultation.