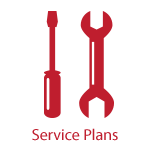 We're always here for our customers! That's why when it comes to their air conditioning needs, we sell, install and service a wide range of modern air conditioning products. But it doesn't end there. We also offer comprehensive Air Conditioning Service Plans that help ramp up your equipment's life, efficiency and performance.
Here's what you get with our Air Conditioning Service Plan:
Parts & Labor Discount
Save 20% on any parts and the labor involved in work performed on the system while covered by our service plan.
Priority Service
Skip to the front of the line! While under our service plan your needs at put at the top of our "to-do" list.
No Diagnostic or Travel Charges
For service during our normal working hours you will not incur any diagnostic or travel charges.
Preventative Maintenance
Arguably the most important aspect of our service plan is the included preventative maintenance. This is what keeps your equipment running efficiently and working reliably year after year. We'll check and clean critical components of your system, including the thermostat, evaporator coil, blower motor and more.
We know you want to keep your cool during the summer for years to come – so trust the cooling experts at MacFarlane Energy for all of your air conditioning needs! Call or contact us online today to learn more about our Air Conditioning Service Plan or to enroll.