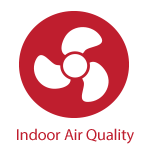 Whether you're a fan of springtime or not, there's one thing Massachusetts homeowners can agree on: allergies are not welcome in any season! Luckily, your reliable home comfort provider MacFarlane Energy can help keep them at bay with our comprehensive indoor air quality solutions.
Ready to protect your home this spring? Ask us about…
Whole-House Air Filtration Systems remove the smallest particles from your home – including dust mites, pet dander, and pollen. With these systems in place, the air inside your home can stay fresher than the air outside that could be swarming with allergens!
Whole-House Dehumidification Systems control the moisture in your home, which protects your family from mold growth that thrives in moist environments. This is especially important during the warmer, more humid seasons!
Duct Cleaning & Sealing reduces the dust levels in your home by keeping the ducts clear and free of any dust that builds up over time, as well as preventing dust from entering the ducts via gaps and openings that shouldn't be there.
Germicidal UV Lights eliminate bacteria that lives on HVAC equipment, preventing it from being circulated into the home and cause allergy flare-ups or worse cases of sickness and infection.
The springtime is the right time to protect the quality of air inside your home from intrusive allergens! Contact us online or give us a call to reinforce your allergy defenses!