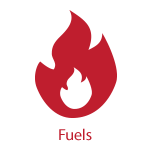 You may or may not have heard the term "ultra-low sulfur" when it came to home heating oil. And, if you have heard of it, you might not really know what it means! Well, we'd like to help everyone understand everything there is to know about ultra-low sulfur heating oil (ULSHO)!
Sulfur is a naturally occurring byproduct of burning fuel, and as of 2014, all heating oil sold state wide in Massachusetts was made to require no more than 500 parts per million (ppm) sulfur content. This was referred to as "low sulfur" heating oil – containing a significant reduction of sulfur content when compared to 2,000 ppm, which was commonplace before any mandates were put into place. Four short years later, and new regulations were implemented that further reduced the allowable amount of sulfur content to a mere 15 ppm, and this is what's commonly referred to as ultra-low sulfur heating oil.
How does ULSHO affect heating oil consumers?
There are quite a few benefits of ULSHO, including:
Higher equipment efficiency, with less need for cleaning service, helps customers spend less on the upkeep of their heating system


Improvements in equipment and fuel reliability mean fewer breakdowns and malfunctions caused by sulfur buildup


Reduction of soot accumulation keeps the equipment cleaner


Less negative impact on the environment keeps our planet healthier


Cleaner air and reduced emissions in and around the home keeps homeowners healthier!
How do I get ULSHO in my home?
That's the best part, you don't need to do anything to enjoy the benefits of ULSHO! MacFarlane Energy is proud to delivery ULSHO to our customers, and this reliable and clean home heating fuel requires no modifications to existing systems and doesn't cost any more than traditional heating oil!
Care to learn more? Give us a call or contact us online and we'll be more than happy to help in any way we can!