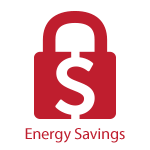 Between your air conditioning system and other major appliances around the house, there's no denying that energy usage is on the rise this summer - especially with everyone spending more time at home. When a home is properly sealed up and equipment properly installed, however, the bump in energy usage should be manageable. If you notice your utility bills spike harshly instead, you could be wasting your hard-earned energy dollars.
Our Conservation Consultations and Home Energy Audits can help dial back wasted energy! Here's how:
Conservation Consultations
Understanding the efficiency of the cooling equipment and other appliances in the home isn't always easy for most average homeowners. During a FREE conservation consultation, we'll help you gain a better idea of where the efficiency of your home stands, as well as how it can be improved.
Home Energy Audits
Home energy audits are a step further from the conservation consultations. This service provides homeowners with a more scientific analysis showing the home's energy efficiency and the areas that need improvement, helping customers to prioritize their energy efficiency upgrades throughout the home.
A few examples of methods to improve a home's energy efficiency include…
Installation of high-efficiency equipment that can cut energy bills by 30 to 50 percent

Installation of heating and cooling accessories, such as microprocessor-based controls and programmable thermostats, that deliver savings of 10 percent or more for a small upfront cost

Energy-saving equipment maintenance that can improve operating efficiency by 5 percent or more
You shouldn't feel bad for your wallet or bank account when you use your home's appliances and equipment to their fullest. Get your energy usage in check! Call or contact us online to schedule your home energy audit, or a FREE conservation consultation.