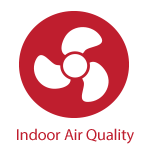 Massachusetts homeowners have very little control over the world outside of their homes, and that's what makes things like the recent COVID-19 pandemic nerve wracking. The good news is, however, that our customers can control the condition of the air inside their homes to provide a little extra peace of mind!
Our indoor air quality solutions keep dust, pollen and other pollutants out - so you and your family can breathe easy!
While the equipment we sell and install won't fight off viral infections or more severe illnesses, they can go a long way in keeping you and your family healthy. Ask about our…
Air Purification Systems
Airborne particles, germs and bacteria don't stand a chance against the air purification systems manufactured by top brands including Lennox, Aprilaire and Honeywell. These systems can be installed into your heating and cooling equipment, so your HVAC system is circulating clean air!
UV Germicidal Lights
Mold, mildew and bacteria can live inside your HVAC system's ductwork and your heating and cooling equipment. UV lights destroy these pollutants before they're circulated back into your home and potentially cause health issues.
Whole-Home Humidifiers
Moisture control is essential to you and your family's comfort and health! Whole-home humidifiers will restore humidity levels in your home while working with your heating or cooling system or acting as a standalone system. Humidity control helps remove the threat of mold, mildew and bacterial growth.
Take control over what's floating in the air in your home! Give us a call or contact us online to learn more about our indoor air quality solutions.