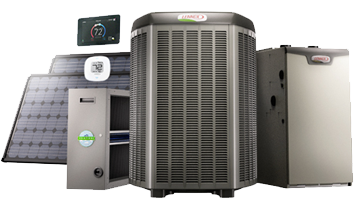 Do your heating and air conditioning units work independently of one another, forcing you to have separate thermostats for each one? Maybe the furnace was replaced within the last 5 years, but the air conditioning is well over 15 years old? We understand, this is a situation that many homeowners find themselves in after piecing together their home comfort systems over the years, or even decades.
Now imagine being able to control not only your heating and air conditioning, but also your indoor air quality with one state-of-the-art thermostat that wirelessly connects to your smartphone. With the Ultimate Home Comfort System designed by Lennox and installed by MacFarlane Energy, you can let your dream become a reality.
As a proud Dave Lennox Premier Dealer™, our expert technicians at MacFarlane Energy can help install and configure your heating, cooling, and air quality units with your thermostat for your Ultimate Home Comfort System. We think that the power for your new home comfort system should always be in the palms of your hands.
Give us a call at 781-277-4233 or contact us to talk to a trained professional today!