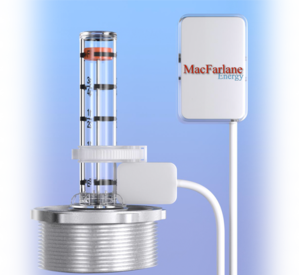 Does monitoring the fuel level of your oil storage tank weigh heavy on your mind? Keep you up at night? Especially in the cold weather months?
Say goodbye to worry and hello to sweet dreams with the security of MacFarlane Energy's Oil Tank Sensor. The advanced Oil Tank Sensor hooks up directly to your storage tank, accurately and reliably monitors the fuel level, and alerts us when your fuel level falls to a pre-set threshold. 
Installing the Oil Tank Sensor puts an end to trudging outside in cold, wet weather or walking down to the far, dark corners of your basement … or worse, running out of fuel because you forgot to check. 
More accurate and reliable than a mechanical float gauge, the Oil Sensor is convenient for any homeowner, and especially useful for: 
Elderly Homeowners – Negotiating staircases becomes more difficult and dangerous as people get older. The Oil Sensor eliminates the need to make unnecessary trips down to the basement. 
Unoccupied Residences and Vacation Homes – Don't risk running out of oil and freezing the pipes in your New England getaway. 
Landlords – Did you know that landlords are required by Massachusetts law to supply tenants with enough heat to maintain a temperature of at least 64°F at night and 68°F in the day in all habitable rooms from September 15 to June 15? The Oil Sensor helps you stay compliant with local maintenance codes and keep your tenants happy.
Anyone With Better Things to Do – Face it, there are a lot of things you have to do each day, and many more that you want to do. Don't waste precious time checking your heating oil storage tank levels.
It's a safety net that's valuable if you have automatic delivery, and critical if you don't. The Oil Tank Sensor can help protect any home against heating outages and prevent common seasonal issues like frozen and burst pipes.
Contact us today and find out how much oil is in your tank from anywhere!