Top 5 Reasons to Invest in Smart Home - Home Automation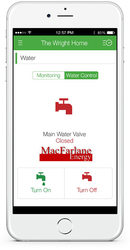 Around this time last year, we showed our customers the top 10 reasons to invest in a whole-home standby generator. Since then, we've helped save a number of Massachusetts residents from power outages, but much has changed in just a year. Today, homeowners don't just want to stay connected during blackouts. They want to stay connected even when they're away from home, and MacFarlane Smart Home – Home Automation allows them to do exactly that. Here are the top five reasons you should consider having this state-of-the-art system installed in your home.
With Smart Home - Home Automation, homeowners never have to worry about forgetting to lock the doors or turn off the lights again. Now you can do both with just a few taps of your phone.
Saving energy is easier, because the system allows you to monitor your home's energy usage and schedule on/off times for your appliances.
Our system makes the home safer and more secure by giving you a bird's eye view of your surveillance cameras through a live stream fed directly to your smartphone.
Home automation is the future of home comfort. The homeowner can now monitor and adjust the temperature inside from anywhere in the world, and always come home to a desired setting.
MacFarlane Smart Home - Home Automation is available with a special Water Protection Package. Prevent seasonal flooding and storm damage by self-monitoring your system and automatically shutting off the water main as soon as your receive an alert.

To learn more about what MacFarlane Smart Home - Home Automation can do, click here or call 781-326-9500