Same Great Customer Service New and Improved Customer Experience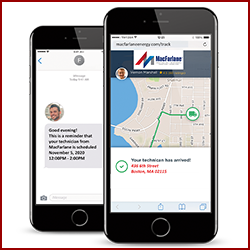 At a time of many challenges the MacFarlane Family of Companies is excited to introduce a new service that can make life easier and more comfortable for you and your family.
Our new technician dispatch system delivers a more efficient and convenient customer experience. With this new customer experience, you can track your service technician from your phone just like with a lideshare app. Plus, you can enjoy all these great features:
Text Notifications - receive a text when your technician is en route to your service location
Technician Bio - the text will include the name and a picture of the technician, so you will be able to identify him or her
Shorter Appointment Windows - you will now be able to schedule two-hour appointment arrival windows, so you can plan your day better
Service Map -track your technician's status on a map
Text Us - for faster and easier communications with our service team
Easy Diagnostics - your technician can now see your full account history including system photos, so he or she will be better prepared to service your system
Earlier Service Times - we now offer repair, maintenance, and installation services as early as 7:00 AM, so you can get on with the rest of your day
Online Scheduling - easily check our availability and make service appointments
With our new system, you no longer need to call our office to make a service appointment. Simply send a text to 781-326-9500 or fill out the form on page 4 with your preferred mobile contact number.