Protect Your Property And Take Full Control with One Powerful App

The "Internet of Things" (IoT) is a powerful environment that creates tremendous opportunities for homeowners and business owners. With the IoT, we can install smart devices that pair with our exclusive smartphone app to give you tremendous vision and control. Consider the possibilities with the MacFarlane Connected Home.
Gain complete access control via a door or garage door. Open the door immediately from anywhere, and set time-limited codes that let people enter only when you want them to.
Control lights and appliances, with the option to turn devices on automatically as you are approaching.
When someone is at the door, detect their presence and get an instant alert and video feed, wherever you are.
Detect a water leak or a flooding problem immediately and take preventive action.
View and control surveillance cameras remotely.
NEW ... When your oil tank is 1/4 full, the tank monitor will notify MacFarlane Energy.
To turn your property or summer home into a MacFarlane Connected Home and enhance your awareness 24/7, call us, and take control today!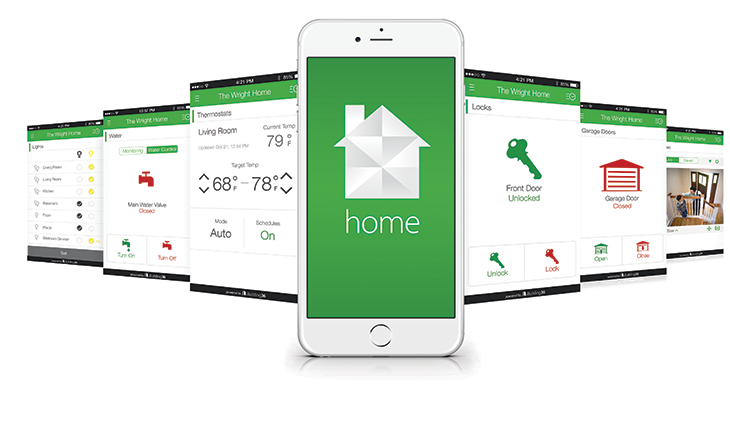 Gain Access Control
Imagine having total control over your exterior doors and garage doors. With a combination of Internet-enabled smart locks and our smartphone app, you can:
Lock or unlock a door anytime from anywhere.
Assign personal access codes so you can keep track of exactly who enters the home or business and when.
Supply time-specific entry codes to occasional visitors such as service people and guests.
Stop leaving your home accessible to anyone who knows where you hide the key.
See if a door is left unlocked, and lock it instantly.
Open the door immediately with a tap of your smartphone screen if a guest or family member wants to get in.
Receive an alert whenever a door is opened.

Control Lights and Appliances
Any light fixture or appliance can be paired with an Internet-enabled switch that makes it controllable remotely. If you have left a light on, you can switch it off. To switch on some lights, use your phone to pick and choose, or put any light on a timer. In an emergency, you can even turn all the controlled lights on at once with one screen tap.
The system can incorporate geo-fencing that uses your phone's built-in GPS to detect your location and trigger actions that you have pre-programmed. For example, as you approach your summer home, the system can automatically turn on the air conditioning.
Know Who Is at the Door, and Talk With them
The SkyBell® smart video doorbell detects anyone approaching the door, sends an instant alert, and provides a link to a live video and audio feed. You can talk to thevisitor, see them in 1080p HD, and point and zoom, from wherever you are. You can also take pictures or live-monitor the video feed and record it.
Prevent Water Damage
A burst pipe or broken valve can cause massive, expensive damage quickly. Our Connected Home system uses water sensors and water shutoff valves to manage this risk. With water detection installed, the system alerts you instantly at the first sign of a water leak or flood. Add Internet-enabled valves, and you can respond immediately by shutting off a zone or activating a whole- house shutoff. Popular applications include washing machines, toilets, dishwashers and sump pumps.
See Everything...From Anywhere
You can set up video surveillance inside or outside and see what is happening from anywhere. Use multiple cameras, and easily toggle between views, or set up an array view that allows you to see everything at once. You can control individual camera settings, including angle, zoom and light settings. The system also enables you to capture still images and email them.
Connected Home remote surveillance provides the visibility you need from anyplace. Even on days when you absolutely need to monitor the video surveillance, you can travel and stayed tuned in.
Keep Tabs on Your Summer Home
Use any combination of MacFarlane Connected Home features to protect and monitor your summer home.
Control who enters the home and when, and find out if a door is left open.
See who comes to the door and talk with them from anywhere.
Use water sensors and valve controls to reduce the risk of water damage.
Install surveillance equipment, so you can see what is happening at any time.
Control lights and appliances remotely, and have the air conditioning switch on automatically while you are making the trip there.