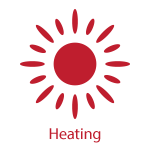 We can't predict the weather – but we can help you predict your heating oil prices!
Now that the summer is beginning to wind down, we'd like to discuss your options for managing your fuel costs during the approaching heating season. Your friends at MacFarlane Energy want you to know that fuel costs don't have to get out of hand! Take advantage of our payment options for better control of your fuel prices.
For optimal price protection, we offer our customers…
A Budget Plan
Enrolling in our budget plan before the heating season allows us to estimate your annual usage, and then take the cost of your fuel for the year, dividing into 11 even monthly payments. This takes the budget squeeze during the height of the heating season and alleviates it!
Capped Price Plan
With a capped price plan you're guaranteed a price ceiling – a cost that which you will never pay more than, no matter how high the market prices go. Not only that, but if prices should drop, you'll benefit by paying the lower cost. Please note, there is an additional fee for this price protection plan!
Fixed Price Plan
A fixed price is just that: a price that won't go any higher or any lower. This plan is ideal for those who prefer to always know how much they're paying for their fuel. You won't benefit if prices should decrease, but you'll also be protected from any increases, too! There's also no additional fee for this protection plan.
Although there's still time before the temperatures start dropping, it's never too early to think about your heating oil prices! Contact us today to sign up for a price protection plan, and get ahead of high heating costs.